We're pleased we could help out our friends (and clients) at One Parking, a national parking operator based in South Florida, who need to evacuate staff in the path of Hurricane Matthew.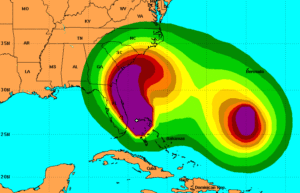 Our two-way video intercoms are installed in numerous parking facilities managed by One Parking in Florida including high profile locations The Courthouse Commons and City Place lifestyle center in West Palm Beach.
During the storm, the Parker 24/7 Call Center in downtown Indianapolis is taking 'help' calls for parking customers affected by the emergency evacuation as well as numerous other locations One Parking's call center takes for facilities around the country.
One Parking operates their own call center using our SaaS-based Call Center Software.
Leveraging our Indy-based 24/7 Call Center team to take the calls during Hurricane Matthew saved One Parking significant expense and demonstrated the power of our technology and call center services as an integrated, turn-key solution. We're excited we could play a part in delivering consistent customer service to parking customers while simultaneously playing a small part in ensuring One Parking staff were able to get to safety.
---
Update: Since the storm passed, we're pleased to share that everyone at One Parking made it out without any major damage. We're glad to hear everyone is safe and sound! You can read a complete article how Parker Video Intercoms supported One Parking during Hurricane Matthew.